Car Hire Tips

Kefalonia car hire tips
To rent a car on Kefalonia is the most comfortable and independent way to explore the island. You choose where to go at your own pace, are free to stay as long as you wish at that charming little village you discovered or the secluded beach you spotted from the road.
However, for many of us hiring a car is an issue with many questions and uncertainties. What kind of car is the right size, should I bring my own baby seat and what about the insurance? Will there be any unexpected extra charges? Get Kefalonia car hire tips and information on the various questions.
Which Kefalonia car rental to use
There are big international car rentals on Kefalonia as well as several smaller local ones.
International car rentals like Hertz, Avis or Sixt have the advantage of well-known and trusted names that provide the same standards worldwide. These names are trustworthy and reliable.
The local car hire agencies don't have the advantage of big names. But you can often find lower rates while offering the same standard of cars. In general, they are just as reliable as any big name.
Sometimes a local car rental is more flexible when it comes to special offers, drop off times or cancellation and payment procedures.
What size of car do you need?
If you are travelling alone or as a couple and carry not more than two suitcases plus hand luggage, you may be happy with the smallest car group or a Jeep. These cars' boots are big enough for two, sometimes even three suitcases. Some bags can always be placed on the back seats, if necessary.
However, as a tall person, you should not opt for the smallest car group. The legroom might not be sufficient for you.
If you travel with more persons, please keep in mind that the smallest car groups with five seats are suitable for four adults or two adults and three children. Take into account how much luggage you carry with you. For a party of five with five suitcases, you will need a car with a big car boot. You even might want to consider a people carrier, depending on the size of your suitcases and hand baggage.
A family with children should check if the desired car's boot size is big enough for all the suitcases, pushchair, rucksacks, bags and carry-ons.
Minivan / People Carrier / 7-Seater and 9-Seater
As a group of five or six persons, a family carrier with seven seats can be the right choice for you. One or two free seats in the car always prevent you from worries about fitting in all the cases.
The car boot of a 7-seater like the Opel Zafira does not take seven suitcases (not to mention additional hand luggage or baby buggy). This also applies to the Fiat Doblo. A 7-seater like the VW Caddy can accommodate more suitcases. But again, it depends on the size of the suitcases, hand luggage, pushchair etc.
The solution for groups of seven or eight persons can be a 9-seater. Whatever does not fit into the car boot can be placed on the free seat(s).
And the car hire extras?
Baby seat / Child seat / Booster seat
Safety seats for children up to 11 years (or a height of 135 cm) are mandatory in Greece, even if you could doubt it watching the Greek traffic.
Many of the local car hire agencies offer the first baby seat free of charge. They only charge a fee if you need a second car seat. The rate for the second seat usually lies at 2 or 3 Euro per day.
Some car hire companies charge a daily fee for the first Baby- or booster seat. This ranges usually between 3 and 5 Euro per day.
Is the additional driver free of charge?
Many Kefalonia car rentals offer free registration of a second driver.
Some car rentals charge a fee for an additional driver, usually between 5 and 6 Euro per day.
Car hire from Kefalonia airport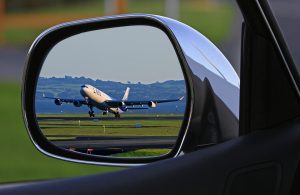 Picking up your car from Kefalonia airport is offered free of charge by almost all the car hire companies on Kefalonia, meaning there are no delivery charges.
Some of the car agencies have an office in the airport building. Others have their offices outside the airport gate or up the road.
Those car rentals that have no offices in the airport have a representative waiting for the guests in front of the arrivals lounge with a name sign. In this case, the car is either in the airport's car park or you are taken up the road to the office to make the contract and hand over the car.
Usually, there is no extra charge to pick up and drop off your car at the airport. The airport tax is included in the rates of many car rentals, but not all.
Only in case of delivery early in the morning or late at night, most of the car rentals charge a fee. These fees can range from 20 Euro to 40 Euro.
Car delivery to your accommodation
If you want to have your hire car delivered to your accommodation, many car rentals meet this request and charge a delivery fee for it. This fee depends on how far away the accommodation is from the car rental's base.
In general, delivery charges range between 20 and 40 Euro per way, depending on where your accommodation is situated. Some car hire agencies do not deliver as far north as Fiskardo or Assos. Others do but charge a delivery fee.
Sometimes the delivery is free of charge if your accommodation is in the same resort as the car rental. For example, if you would like to have a car delivered to an accommodation in or near Skala, you should consider booking a car with a Skala car rental (or one with a branch office in Skala). Chances are good that there are no delivery charges at all.
Is there a GPS with the hire car?
Not many car rentals offer GPS. If they do, the charge is around 8 Euro per day.
The car rentals give you a free map and can mark the way to your resort on the map. Signposting on Kefalonia is not bad. However, should you get lost, just ask a helpful person on the road for directions. Also, you could download an app onto your mobile phone and use it as GPS.
Bottom line: Be realistic about the number and size of your luggage and choose your hire car accordingly. An alternative to booking the next higher car category because of too much baggage could be a luggage taxi. Depending on how far from the airport your accommodation is situated you might want to check the taxi transfer rate.
Many car rentals have the first baby seat and one additional driver free of charge. The cost of delivery charges to and from the accommodation depends on the car hire agency. Some deliver free of charge to certain resorts.
                     Read on for car hire insurances and payment procedures.