About me
Who writes here?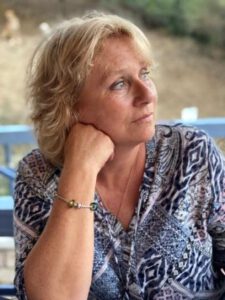 Hi, I am Heike and I give tips on everything that has to do with your holidays in Kefalonia. You can find suggestions on where to go for a hike or advice on renting any kind of motorized vehicle. If you search for information about public buses in Kefalonia or where to go by car you may find some useful tips. Are you dreaming of heading along the coasts by motorboat … I tried to describe as many beaches reachable by boat as possible.
… and then there's Joleni Cottage
If you are looking for accommodation in Kefalonia I can introduce you to Joleni Cottage, renovated with much love (and sweat) by my husband Nikos and myself. Since 2019 we rent it out as a holiday home. It is wheelchair friendly and situated in the lush region between Spartia and Keramies.
What brought me to Kefalonia
When I was young and adventurous I quit my job in Germany in order to plunge into the "Greek adventure". Then, after having completed a Greek language course in Athens with the ability to say "my pencil is green" in fluent Greek I saw myself ready to face the working world.
When I first came to Kefalonia in 1988, I cannot say that it was love at first sight. This island was (and is) different from all the other islands I had seen so far. No whitewashed houses as on the Aegean islands, the Argostoli Bay reminded me more of a fjord, I felt it lacked the Greek flair.
Then I gradually explored Kefalonia by motorbike and fell in love with the island … with the secluded beaches, the lush vegetation, and the wild and diverse beauty of Kefalonia.
So I came back every summer, worked as an Au-pair, in a car rental company, in a hotel, and finally for many years in the office of a travel agency and as a guide. Meanwhile, I met my husband and had three children.
Back to the roots
A few years ago I finally had enough of working in the agency. I wanted to go back to the beginning, so to speak. I started to work as a guide again and enjoy getting around and since 2019 my husband and I rent out our holiday home Joleni Cottage.
A few years ago, I had the idea of creating a bilingual website for holidaymakers who are looking for information about Kefalonia. And I am happy to pass on some knowledge about the island.
If you have questions or if you are interested in our holiday home Joleni Cottage you are welcome to contact me either using the contact form or by email at info@kefaloniaway.com.
You can also find me on: