Boat hire tips

Kefalonia boat hire tips
Exploring Kefalonia by boat is the most inspiring way to see the hidden coves and beautiful coastline of the island. Sailing across the turquoise waters and watching out for dolphins can be the highlight of your holidays. There are countless little bays and beaches along the coastline, many of them accessible only by boat.
In the north of Kefalonia, between Aghia Efimia and Fiskardo, there are many secluded bays with pebble beaches, which you usually have to yourself when you stop for sunbathing, snorkelling and swimming.
With some luck, you can spot one of the rare monk seals in the north as the numerous sea caves offer them shelter. Should you spot one, watch them only from a distance and do not follow them. However, they are a rare sight and it is more likely to see some dolphins during your cruise.
The sandy beaches are mostly situated in the south of Kefalonia. There are countless beaches following the coastline from Skala and Katelios up to Lourdas and Argostoli. You can find quiet and secluded bays as well as long stretches of sandy and shingle beaches. In the west on the Lixouri peninsula, you can hire a boat from Vatsa and Zola.
On many beaches you can rent sunbeds and umbrellas; there are beach bars, restaurants and water sports. However, if you prefer a secluded bay or quiet beach, you will easily find one.
It is also possible to come across one of the protected Loggerhead turtles Caretta Caretta. You will see them rather in the south of Kefalonia as they use the sandy beaches in the south for nesting.
What is required to hire a motorboat?
Motorboats up to 30hp can be hired without a boat licence.
Speedboats from 40hp and above require a speedboat licence.
Minimum age of 18 or 21 years is required (depending on the boat rental).
An ID card or passport
You should have a mobile phone with you, to be able to call the boat rental in case of a problem. Somebody will come out by boat to help you. Some boat rentals provide a mobile phone if you do not have one of your own.
How many persons can be accommodated on a motorboat?
 Depending on the boat, the maximum number of passengers is 2-5 for the smaller boats and up to 9 persons for the various sizes of speedboats.
Is it your first time to hire a motorboat?
 You will be fine. Before you set off with your hired boat, you will receive instructions and safety advice. The staff will explain how to operate the engine, anchoring and mooring. So even if it is your first boat hire you will feel comfortable to handle the boat.
The staff gives tips on where to go along the Kefalonia coastline. They will also point out the cruising limits on the map. Hired boats are allowed to travel within a range of three nautical miles from the place they were hired (1 nautical mile = approx. 1,85 km or 1,15 miles). Travelling out of this zone might affect your insurance coverage and in case you are unlucky enough to be spotted by the coast guard, you have to pay a fine.
The boat hire staff is always up to date with the weather forecast and will inform you about possible weather changes.
Don't feel comfortable setting off on your own?
 Maybe you don't feel comfortable cruising on your own but you like the idea of having your own boat and planning your trip individually. Why not hire a skipper for the day? Several boat rentals offer skippered tours according to your wishes and itinerary.
Mooring and anchoring
Watch out for signs that say "no mooring" when reaching a bay or beach, like at Emblissi beach in the north, where you have to drop anchor well out of the bay.
You cannot take the motorboat up on a beach as it can damage the underside of the boat or the propeller. Always keep a few meters distance to the beach.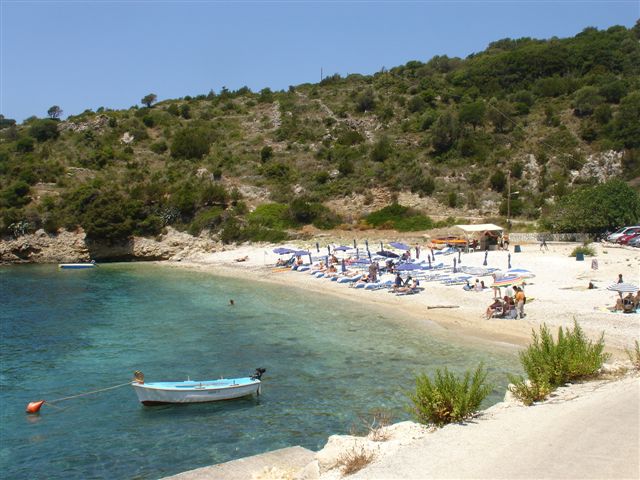 What kind of motorboats are there?
Some of the boats are started manually and steering is operated from the tiller. Others offer an electric starter, steering wheel and throttle control from a central console. You choose which type serves you best.
The smallest boats start from 10 or 15 horsepower. A bit bigger and faster are boats with 25 or 30 horsepower. These are usually fine for two to four passengers. None of these boats requires a driving licence. The engines are two-stroke or four-stroke.
For speedboats from 40 hp and above you need a speedboat licence.
Insurance for motorboat hire
 The local boat companies are licensed and insured. This insurance usually is third party, which means damages to a third party are covered. You are liable for any damages you cause to your own hired boat and have to pay for it. You may want to check your holiday insurance or private liability insurance if boat hire coverage is included.
 Included in the price
Third-party insurance
Taxes
Life jackets
Coolbox for drinks and food
Sun canopy
Map of the island
Some boat rentals provide sun umbrellas and mats
Not included in the price
 Please keep in mind that the fuel is not included in the price. You receive the boat with a full tank and will pay on your return for as much as you consumed. Some boat rentals keep a deposit for the fuel and settle against the consumed fuel at the end of the day.
Depending on how far you go you will consume between half a tank and a full tank. You can expect (roughly) fuel costs between 20 and 40 Euro.
Following Odysseus tracks
If you hire a boat in Fiskardo you even have the possibility to go over to the neighbouring island of Ithaca for a swim at one of the beaches or for a drink at the beach bar in Polis Bay. Just keep in mind that the wind usually picks up in the afternoons, so the way back to Kefalonia can be choppy.
Make sure you return on time. Every boat rental gives a certain time by which you have to be back. Depending on the rental, the return time can range from 16:00 to 20:00.
Kefalonia Resorts offering motorboat hire
The small motorboats mentioned in the following list are a variety of boats up to 30 hp for which you don't need a boat licence. Speedboats are from 40hp upwards and require a speedboat licence.
Vatsa Bay (on the Paliki peninsula): small motorboats & speedboat
Argostoli: two boat rentals, small motorboats, also skippered speedboat tour
Lassi: small motorboats
Agia Kiriaki beach (near Zola): small motorboats
Fiskardo: three boat rentals with small motorboats and speedboats
Agia Efimia: two boat rentals with small motorboats
Karavomilos: small boats & speedboats, with or without skipper
Skala: small motorboats & speedboat
Katelios: small motorboats, speedboats
Lourdas: small motorboats & speedboat
Sami: small motorboats & speedboats, also skippered boat tours
Bottom line: Even for first-timers it is no problem to handle a small motorboat. The staff gives instructions before you sail off.
Check with your holiday insurance if hiring a motorboat is covered as usually the boats only have third-party liability insurance. This covers damages towards a third party but not to your hired boat.