Keramies and Neighbourhood
The Neighbourhood of Joleni Cottage
Joleni Cottage is situated in the village of Keramies and only 1km away from the next village, Spartia. Several beaches are situated within a few minutes by car.
Keramies is a quiet village, still undiscovered by tourism. It is ideally located for exploring the island and to reach several beautiful beaches within minutes. The capital Argostoli (10km) and the airport (7km) are less than 15 minutes away by car.
There is a small minimarket in the village with a very basic stock of things, a few minutes by foot from Joleni Cottage. The traditional tavern "Anna" is a secret tip amongst the locals and also only a short walk away from the cottage. Just outside Keramies, there is another recommendable restaurant, the "Elaionas".
Neighbouring villages:
Spartia can be reached in 2 minutes by car or 15-20 minutes by foot. Here you can find two minimarkets and a restaurant.
Pessada is just 5 minutes away by car or 20 minutes by foot.
In Metaxata there is a traditional tavern/grill that also offers delivery.
In the region around Joleni Cottage, you can make beautiful walks through nature and the villages. To explore the island and reach the beaches I highly recommend a hire car. You can find a few tips on car hire in case you need some information.
Nearest beaches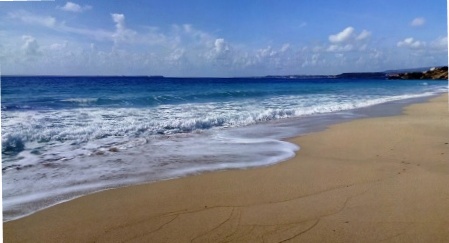 Sights near Joleni Cottage
Monastery of St. Andrews in Peratata (2km from Keramies): here you can visit 2 churches and a small, very interesting museum. In the bigger church, the right foot sole of Apostle Andrews can be seen in a silver casket.
The Venetian fortress St. George (called Kastro) (ca 3km): the fortress ruins are situated on a hill above Peratata. After a tour of the Kastro grounds, you can enjoy homemade cake and coffee at the "Kastro Cafe" which is situated just below the entrance of the fortress. With a unique view over the island's South, you sit under trees surrounded by flowers.
Divino Winery in Pessada (2km): not only can you enjoy wine tasting at this family-owned winery, but you can also have a look at the collection of antiques that were collected over generations.
Mycenean tombs of Mazarakata: you can find the tombs coming from Keramies to the crossroad at the Fiat garage. Here you drive straight ahead towards Argostoli (instead of turning right towards the Kastro). After approximately 200m the Mycenean tombs are on the right side of the road.
Shopping
There are three big supermarkets about 3 km away from Joleni Cottage; furthermore, there is a butcher shop and a fruit&vegetable shop in Travliata and a bakery and a pharmacy in Peratata (both villages are next to each other and approx.2km from Keramies).
The capital Argostoli is 10km away. Here you can find shops, banks, a post office and of course countless cafes and restaurants.
Have a look at the amenities of Joleni Cottage.
For requests please contact me via the contact form or under the email address kefaloniaway@gmail.com