Transfer tips

Kefalonia Transfer Tips
To hire a taxi on Kefalonia is probably the most comfortable way to get around on the island. Instead of having to be concentrated on the road while driving yourself, you can enjoy the view and relax.
Kefalonia airport taxis
Especially when you arrive after a long flight to Kefalonia you might not feel like dealing with the paperwork for your hire car at the airport. There are almost always taxis outside the airport entrance at the taxi rank. You should ask the driver for the rate to your destination before you get in the taxi and set off.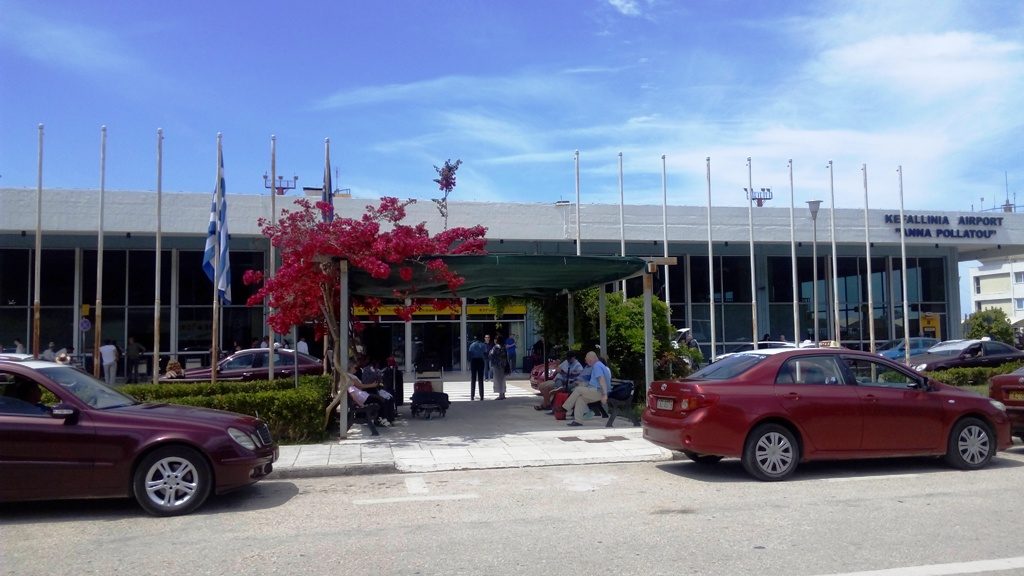 Pre-booked taxi transfer
The most hassle free way to get from Kefalonia airport to your accommodation is to pre book a taxi. There are international taxi companies who work in cooperation with local taxi firms and there are local taxi companies, offering the same service just as reliable, but often with lower rates.
If you have a pre-booked taxi, the driver will wait for you in front of the arrivals lounge with a name sign. Even if your flight is delayed your taxi driver will be in place. The drivers always have an eye on the flights and possible delays.
If you have booked a return taxi transfer, you agree a pick-up time from your accommodation for your departure day. The taxi company will usually provide you with an emergency mobile phone number, just in case the driver should not be there at the agreed pick-up time.
What is the maximum number of passengers in a taxi?
A taxi takes up to four passengers and their standard luggage. An infant counts as full passenger as it needs a seat for the baby seat.
By the way: the charge is always per taxi, not per person.
Baby seat / Child seat / Booster seat in a taxi
Baby, child and booster seats are usually free of charge but need to be requested on booking.
How much luggage can a taxi take?
You normally can have a standard size suitcase and a small piece of hand luggage per person. If you travel alone or as a couple, the size does not really matter. Are you a party of four, you should keep an eye on the size of your luggage. Inform the taxi company about the number of passengers when you book the taxi.
As a family with small children, let the taxi company know if you have extra luggage, like a pushchair. This applies also for guests with a wheelchair, sport equipment or any excess luggage.
In general the taxi drivers do their best to accommodate all the baggage in the taxi. However, should there be too many or too large pieces it can be possible that you need to hire an additional luggage taxi. In this case it can be cheaper to book a Minibus transfer in the first place.
Minibus transfer
If you travel in a party with more than four persons it is worth booking a Minibus transfer. This is usually cheaper than two taxis. There are different sizes of Minibuses available, from 8-seaters to 22-seaters.
How do I pay my taxi transfer?
If you pre book a taxi online, the taxi company usually requires payment by credit card or debit card, sometimes also by bank transfer.
If the payment is to be made locally on Kefalonia, it will be paid directly to the driver in cash.
Do I tip the taxi driver?
If you are satisfied with your driver you are welcome to give a tip. However, there is no obligation; it is entirely up to you. Usually you round up the amount or you add 5% to 10% to the fare.
Distance from Kefalonia airport to your resort
Below distances and transfer times are estimated. Transfer times on Kefalonia also depend on low or high season, with much more traffic on the roads in July and August and longer transfer times.
| | | | |
| --- | --- | --- | --- |
| From | To | Km (approx.) | Duration in min. (approx.) |
| Kefalonia airport | Argostoli | 7 | 15 |
| | Svoronata | 3 | 5 to 10 |
| | Trapezaki | 13 | 25 |
| | Lourdas | 15 | 30 |
| | Katelios | 28 | 45 |
| | Skala | 35 | 55 |
| | Poros | 40 | 60 |
| | Lixouri | 44 | 60 |
| | Xi (near Lixouri) | 51 | 70 |
| | Sami | 34 | 50 |
| | Agia Efimia | 40 | 60 |
| | Zola | 32 | 40 |
| | Fiskardo | 57 | 80 |
| | Assos | 45 | 50 |
For questions and assistance please contact me.